All it takes is a single glance to realize that you're in the presence
of something more than an attractive sedan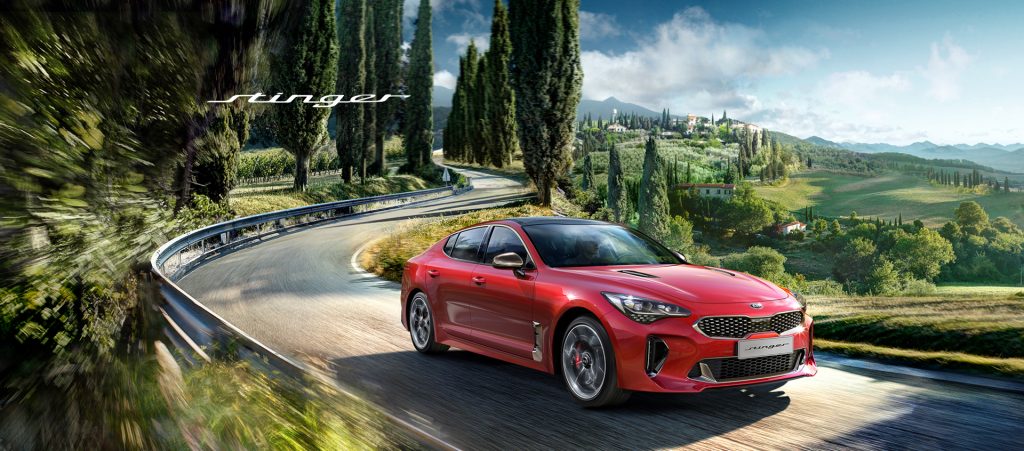 From the low-slung driver's seat to intriguing details like the circular,
aircraft-inspired air vents, Stinger's cockpit design draws heavily on classic sport sedans
The colors of the Stinger, and methods used to achieve these colors
can only be described as avant-garde. Our goal for the exterior surface colors
was for them to be youthful, but classic.
The inviting Stinger interior reflects the spirit of the gran turismo concept. Rich, luxurious tones complement the bold exterior colors.
Inside, the Stinger feels sporty, substantial and uncluttered. It's also spacious,
particularly in the rear, thanks to its long wheelbase
The Stinger puts your life
in motion in countless new ways Its five-door fastback layout
with 406 liters of cargo capacity
means there's plenty of easily
accessible space to bring along
everything you'll need, even
for a long road trip
To be a true GT, a GT must be able to reach top speeds anywhere and in any circumstance.
And to achieve unlimited speed, a car needs to be equipped with superior capacity
in terms of power, drivability, safety, and durability
From the Nurburgring circuits (Germany), also known as the "Green Hell,"
to the arctic cold of Arjeplog (Sweden), extreme testing proved that the Stinger satisfies all.
Lambda 3.3 T-GDI engine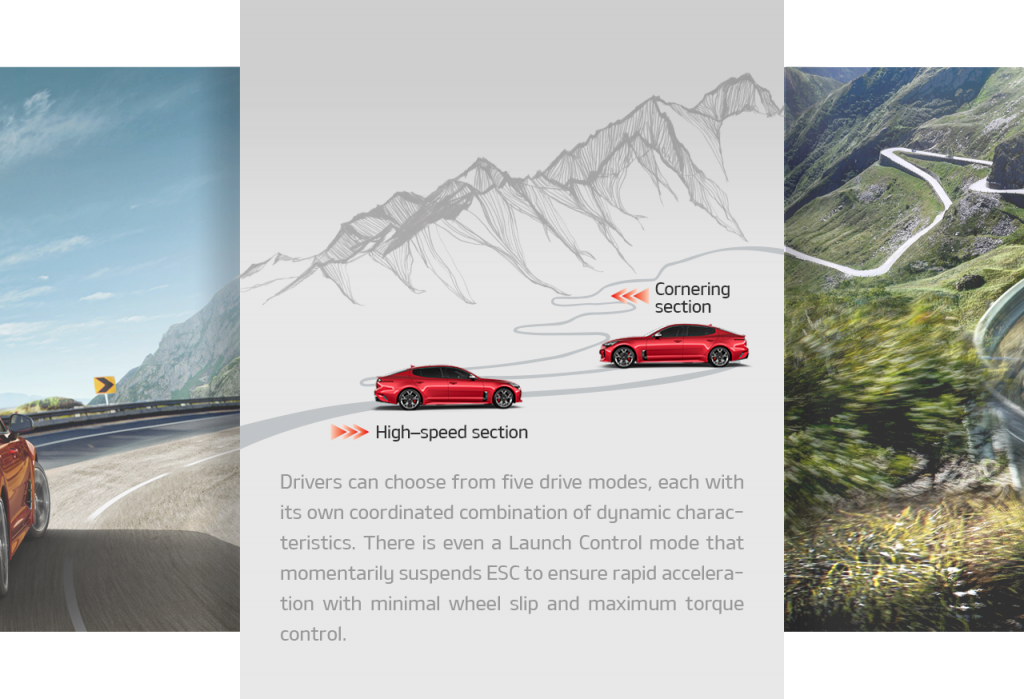 A twin turbocharger helps this top-of-the-line V6 engine achieve considerable torque over a broad rpm range. The exhaust manifold is integrated with the cylinder head for added power, and an electronic thermostat helps provide precise temperature control
The Stinger is shaped to
minimize fuel-consuming drag
and maximize stability
and control At the same time,
its structure, contours and
interior treatments are engineered
to isolate passengers from
noise and vibrations
Intuitive problem-solving
The Stinger offers many DRIVE WiSE technologies,
Kia's ADAS (Advanced Driver Assistance System),
that use advanced sensor and processing technology
to help make driving as safe and convenient as possible