Pamela Anderson Biography, Pictures and Videos
A native of Canada, Pamela Anderson was born on Vancouver Island, and later moved to the city of Vancouver. It was while she attended a British Columbia Lions football game that Anderson was "discovered" in a most unusual way. Dressed in a Labatt's Beer T-shirt, her image was transmitted on the stadium's wide screen. The fans cheered the beautiful girl, and she was brought down to the 50-yard line and introduced to the appreciative crowd. As a result, she was signed to a commercial contract with Labatt's and became the company's "Blue Zone" girl.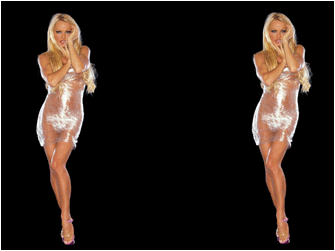 The campaign was so popular that other commercials and advertising assignments for Anderson soon followed. Due to the recognition from these commercials, she was soon approached to do her first cover for Playboy Magazine. Pamela has since gone on to grace the cover again an astounding five times, more than any other woman in the magazine's history. With the success and recognition she garnered from Playboy, Anderson soon moved to Los Angeles where she spent two seasons in the top-ten ABC Television hit series "Home Improvement" (1991) as Lisa, the Tool Time Girl. It was on "Home Improvement" that she captured the attention and affection of viewing audiences nationwide. At the same time, Anderson was cast as C.J. Parker on the internationally successful series "Baywatch" (1989), but because of the impossible scheduling requirements of working on two hit shows, she eventually left "Home Improvement" and remained full-time on "Baywatch". She now stars on one of the most phenomenally popular television programs of all time,
which is seen in 140 countries worldwide. Recently, Anderson made the transition into the feature film arena, starring in Dark Horse Entertainment's action comedy Barb Wire (1996). In addition, Anderson was featured in the CBS movie-of-the-week, Come Die with Me: A Mickey Spillane's Mike Hammer Mystery (1994) (TV), a hip and updated Mike Hammer mystery, co-starring Rob Estes.